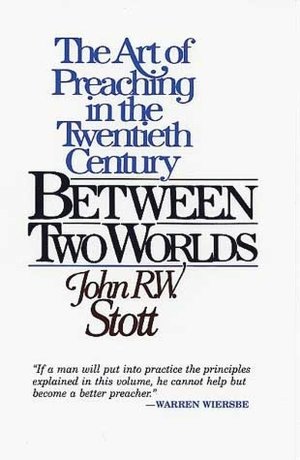 Between Two Worlds is based on the fact that "preaching is indispensable to Christianity (15). Here John Stott attempts to prove this point through a look at what God's Word has to say about preaching. His goal is that all preachers strive to properly present God's Word to their flock.
Stott follows a logical flow in his work. He begins with a historical look at preaching running from Jesus to the Reformers, the puritans, and finally today. His next step in the book is to address the current view of preaching. The 20th century (and the 21st even more so) saw many anti-preaching obstacles including the television, hypocrisy, and postmodernism. From here, Stott moves on to the foundations for preaching. These involve one's view of God, the Scriptures, the Church, the Pastorate, and the finally preaching.
The next major movement of the book showed how preaching is able to be a "bridge-builder." The message should not merely focus on today, nor ought it to merely take a person back to the historical context and leave them there. The message must build a bridge between the original context and today so that the hearer may see the veracity and applicability of the Scriptures.
The author then addresses the preacher and his study, sermon making, sincerity and finally courage and humility in the process. These final chapters focused more on the heart of the preacher as he proclaims the Word of God.
One aspect about the book which I greatly appreciated was the author's desire to have the input of others. He mentioned a book club in which he participated. They would meet monthly and discuss a certain book, learning from each other. He also mentioned having medical students critique him on his sincerity and earnestness. He desired to hear what they saw in him. Again he mentioned the other leaders in his church and consulting them about the direction of the church and what passages and topics he should be addressing or which he has neglected. Along these lines the author quotes an Indian proverb, "He who has a good friend needs no mirror."
A negative side of Stott's work was that it seemed to be a compilation of quotes. Many of them were helpful, but at times it seemed like the author merely filled in the gaps between the words of others.
Overall the book was average. He was not as thorough in the sermon preparation chapter as I though he would be. His background is influenced heavily by the Anglican Church, and ecumenicalism.
I appreciated much of what he said, and may read the book again, however his book does not rank in the top five of those I have read. It may be worth it for you to purchase, but I would recommend
Christ-Centered Preaching: Redeeming the Expository Sermon
by Chapell and
Biblical Preaching: The Development and Delivery of Expository Messages
by Robinson.
If this review was helpful, let me know here