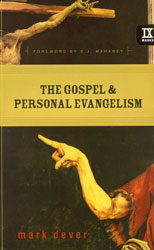 The Gospel & Personal Evangelism
Product Details
Paperback: 124 pages
Publisher:

Crossway

Date Published: 2007
Point: Evangelism is not a duty for only full-time ministers. Evangelism is the privilege and expectation granted to all believers of sharing the good news with others.
Path: Dever asks and answers seven key questions in this short book. Why don't we evangelize? What is the Gospel? Who should Evangelize? How should we Evangelize? What isn't Evangelism? What should we do after we Evangelize? Why should we Evangelize?
In his questions and answers the author critiques common misunderstandings and malpractices.
Sources: Dever regularly references puritan leaders and influential pastors from the 20th century.
Agreement: This short work was an encouragement and reminder to me. I appreciated his openness, his logic, and his personal love for the glory of God and his fellow man .
Personal App: Am I viewing evangelism as what it truly is, sharing the good news, or just another duty, option, cross to bear, or distraction?
Favorite Quote: "An eternity in relative prosperity without him [Christ] would actually be hell to us." (59)
Stars: 4 out of 5 (I enjoyed it, and will read it again)
It would be worth another read and I would recommend it.
I would also pass this on to another believer, young or old in the faith. It is a good starter and would go well with Packer's "Evangelism and the Sovereignty of God"